Applications:
Greenhouses, nurseries, garden pot irrigation.
Specifications:
Maximal working pressure: 30 PSI (2 bar)
Recommended filtration: 120 mesh (130 micron).
2 different models to meet growers' requirements.
To be "inserted" into a 3*5 mm micro-tube.
Injected dripper, very low CV.
"Turbulent" labyrinth wide water passages for highest reliability and efficiency.
Features and Benefits:
Allows placement of drippers exactly where necessary.
Allows maximum flexibility in greenhouse and nurseries (with soft micro-tubes).
Allows installation of other drippers to add compensated and anti-drain functionality.
Accessory to all on-line drippers for better and more accurate installation.
Adaptable to all on-line drippers via barb, manifold or adapter.
| | | | | |
| --- | --- | --- | --- | --- |
| Straight | 0,5 | 0,6 | 0,7 | 0,8 |
| Angle | 0,6 | 0,7 | 0,8 | 0,9 |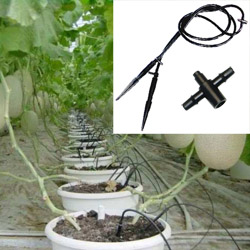 Click image to enlarge
---
---