STORE POLICIES
Customer Service

Satisfaction Guarantee

Payment Options

Prices

Promotion - Coupon Code

Sales Taxes

Order Confirmation

Shipping

Tracking Number

Delivery

Cancel or Modify an Order

Warranty Product

Returns, Refunds and Exchanges

Privacy

Security

Ownership and Permitted Use of IrrigationDepot.ca
Customer Service
If you have questions or comments about our website. info@irrigationdepot.ca or you can call us at 514-967-0257.
If you're not comfortable ordering online, you can email your order.
Order Form.
Satisfaction Guarantee
If for any reason you are unhappy with your on-line purchase we're committed to making it right. We will gladly refund, exchange or replace any product which fails to meet reasonable performance expectations. Within 15 days of your purchase.
Payment options
Irrigation Depot accepts VISA and MasterCard credit cards. We do not accept cash, cheques or COD for online orders.

Did you know that? The visa or Mastercard Zero Liability policy eliminates consumer liability for fraudulent transactions!

See the Visa Zero Liability Policy, Click here. See the MasterCard Zero Liability Policy, Click here.
Prices
Prices on this website are for on-line purchases only. Prices in-store may differ.
Promotion - Online Rebate Code ***10 Years Anniversary***
Valid June 12 to June 15, 2016. Limit one (1) coupon per purchase. No cash value, no rainchecks. Discounts cannot be applied to previous purchases. Offer cannot be combined with any other offers or coupons.
Purchases of $199-$799,99 (before taxes) required to receive

10% discount.

To redeem your online coupon code. Enter code

LUCKY10

at Checkout.
Purchases of $800 or more (before taxes) required to receive

20% discount.

To redeem your online coupon code. Enter code

LUCKY20

at Checkout.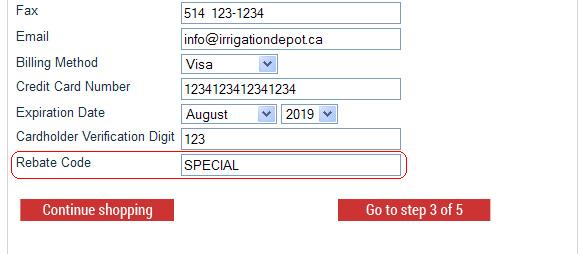 Sales Taxes
Orders delivered to Quebec (Canada).
The 5% (GST) and the 9.975% (PST) are applied to orders delivered to Quebec addresses.
Orders delivered to Canada (excluding Quebec). The GST/HST rates are as follows:
| Province | On or after April 1, 2013 |
| --- | --- |
| Alberta | 5 % |
| British Columbia | 5 % |
| Manitoba | 5 % |
| New Brunswick | 13 % |
| Newfoundland and Labrador | 13 % |
| Northwest Territories | 5 % |
| Nova Scotia | 15 % |
| Nunavut | 5 % |
| Ontario | 13 % |
| Prince Edward Island | 14 % |
| Saskatchewan | 5 % |
| Yukon | 5 % |
Orders delivered to USA. Canadian sales taxes do not apply to U.S. customers. Therefore, our U.S. customers are not charged any sales taxes, Canadian or American, provided their order is delivered to an address in the U.S.
International Customers. Any orders that must be shipped outside the Canada are considered as international in terms of taxe charges. Your country's taxes (import fees or duties) may apply on your purchase when they pass the customs. These fees vary from country to country. For more information, we strongly advise you to check with the Customs department in your country about its import policies.
Order Confirmation
When you order from Irrigation Depot, you will receive a confirmation email.
Shipping
We usually ship all orders placed before 2 PM EST on the same business day. Please note that an order placed during the weekend or on a holiday will ship on the following working day as we do not ship on non-business days.
Tracking Number
The tracking number for every order is automatically emailed after shipping.
Delivery to Anywhere in Canada with Canada Post
There are no delivery fees** in Expedited Parcel option for purchase over $69* (before taxes).
*

A $4.85 handling charge per order applies.


**Extra fees may be applied if you choose Xpresspost option.

A flat rate $9.85 fee for shipping and handling ($5.00 + $4.85) is applicable to all purchases under $69.

We deliver exclusively to civic address matching the credit card information.

We will not deliver to a P.O.Box.

Free shipping and Flat rate shipping is only available for deliveries in Canada.

The International deliveries are subject to all the fees of delivery.
Delivery time for the following cities:
| | | | |
| --- | --- | --- | --- |
| CITIES | DAYS | CITIES | DAYS |
| Calgary | 4 | Qu飥c | 1 |
| Charlottetown | 3 | Regina | 4 |
| Edmonton | 4 | Saint John | 2 |
| Fredericton | 3 | Saskatoon | 4 |
| Halifax | 2 | St-John's | 4 |
| Hamilton | 2 | Toronto | 1 |
| Happy Valley | 6 | Vancouver | 5 |
| Kitchener | 2 | Victoria | 5 |
| London | 2 | Whitehorse | 7 |
| Moncton | 2 | Windsor | 2 |
| Montreal | 1 | Winnipeg | 3 |
| Ottawa | 1 | Yellowknife | 7 |
Add 1 day for the peripheral cities.
Cancel or Modify an Order
If you wish to cancel or modify an order, you must advise Irrigation Depot as soon as possible by E-mail. We will verify the status of your order and make any necessary changes without any charges. If your order has already been sent out when you call. If this should occur and you still wish to return a product, please refer to the Returns, Refunds and Exchanges section.
Warranty Product
Defective exchanges for identical product within 15 days of purchase. After 15 days, please contact the manufacturer. IMPORTANT: Please open and inspect your order within 48 hours after receipt of your order (even if you are installing the product(s) at a later date, as any damage or missing product claims must be sent over Email with Fourty-Eight (48) business hours.
Most products sold Irrigation Depot are covered by manufacturers warranty. If you are having technical issues with a branded product (specifically controllers and solenoid valves) sold by us, we suggest you contact the manufacturer directly to resolve the issue prior to contacting us. Following are technical support line numbers for our leading suppliers.
MANUFACTURERS
TELEPHONES
EMAILS or LINKS
Hunter® Industries
1-760-591-7383
https://www.hunterindustries.com/contact-us
Hydro-Rain®
888-493-7672
customerservice@hydrorain.com
Hydro-Rain® Wi-Fi
1-800-763-2191
Wi-Fi HRC-400
Irritrol®
1-800-634-8873
https://www.irritrol.com/en/troubleshooting
Orbit®
1-800-488-6156
https://www.orbitonline.com/contact
Rain Bird®
1-800-724-6247
http://www.rainbird.com/homeowner/support/
SupportCenter.htm#gsc.tab=0
Toro®
1-800-544-5364
https://www.toro.com/en/customer-support/
contact/customer-inquiry
For all other warranty claims please contact us and we will assist you in resolving the issue.
Returns, Refunds and Exchanges
If for any reason you are not completely satisfied with your purchases, Irrigation Depot will gladly give you a refund or exchange. Simply return the product by mail within 15 days in its original condition and packaging (including all manuals & accessories) along with the original receipts.
N.B
. All controllers, transformer, rain sensor, backflow device, pressure vacuum breaker, nozzle, solenoid, products cut on request, special orders are
non-refundable
.
THESE FEES ARE NON-REFUNDABLE (on all non-defective products):
On purchases made with a credit card, the same card used to make the purchase will be credited with the refund. The credit will be made within 5 to 7 business days of us receiving and verifying the returned merchandise.
Step 1: Please fill out by E-mail at info@irrigationdepot.ca to request a Return Merchandise Authorization number. IMPORTANT: Packages returned without an RMA number will be refused.
Step 2: Simply return the product in the same condition as when you purchased it, with all manuals and accessories. When returning item(s), please indicate on the back of the invoice, or in an attached letter, the reasons for the return and your name and phone number. The invoice and/or sales receipt is required with all returns.
Irrigation Depot will not refund any return shipping charges (included a defective product) unless we made an error in order processing. Irrigation Depot is not responsible for any damage that may occur during shipment to the item(s) you are returning. For your own protection, you may wish to send your return by insured parcel post or courier.
Privacy
Your personal information shall not be used or disclosed for purposes other than those for which the information was collected, except with your consent or as required or permitted by law. Irrigation Depot does not supply personal information for third parties own use, such as by the sale of mailing lists.
Security
Our website uses SSL (Secure Sockets Layer), an industry standard security protocol. SSL sends your browser information that "encrypts" your order, changing all the information that you send back into a code that is extremely difficult to decipher.
Ownership and Permitted Use of IrrigationDepot.ca
The Website is the property of Irrigation Depot and is protected by Canadian and international copyright and other laws. Your use of the website does not transfer to you any ownership or other rights in the Website or its content. The Website is made available to you for four lawful, personal use only.